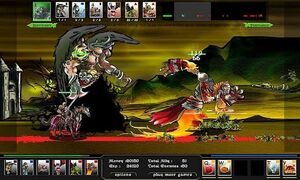 Lord of Shadow is a titan who only appears in
Epic War 3
. Lord of Shadow is also the boss in Epic War 3's Cave of Trial 4.
Epic War 3
Edit
In Epic War 3, Lord of Shadow is unlocked by beating Cave of Trial 4. Unlike any of the other titans who cost 650 mana, Lord of Shadow costs 700 mana, and never appears in the battle with the final castle. By stats he is the strongest unit, though other units like mermaids, are easily better due too his insane spawn time and his health drains quickly.
Ad blocker interference detected!
Wikia is a free-to-use site that makes money from advertising. We have a modified experience for viewers using ad blockers

Wikia is not accessible if you've made further modifications. Remove the custom ad blocker rule(s) and the page will load as expected.