Ad blocker interference detected!
Wikia is a free-to-use site that makes money from advertising. We have a modified experience for viewers using ad blockers

Wikia is not accessible if you've made further modifications. Remove the custom ad blocker rule(s) and the page will load as expected.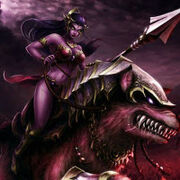 Epic War Saga, also known as Epic War MMO is the sixth Epic War Game. Epic War Saga has a large fan base, however, the rating is lower then some of the other Epic Wars due to the energy system.
In Epic War Saga one buys stuff with gold, and sometimes crystals. There are five ways to get gold, doing quest levels, fighting with others at the Arena, completing achievements, getting it through daily rewards, or buying more with crystals. To get more crystals one uses kreds, completes achivements, or gets them through daily rewards. There are two modes of gameplay: Quest, where one fights against AI like the previous games, or Arena, where one also fights against AI but the AI uses what that person has equiped and their stats.
Unlike the previous Epic War games, to play Epic War Saga one must be a member of Kongregate and logged in. (Armor Games also has Epic War Saga, and you can play with your AG account).
On August 7th 2016, the servers for Epic War Saga went down, giving an "Unknown Game ID" error, now making this game impossible to play (at least on Kongregate, but there have been reports that the Armor Games version doesn't start either).
Epic War Saga Wiki
Edit